You Deserve to Have Your Story Heard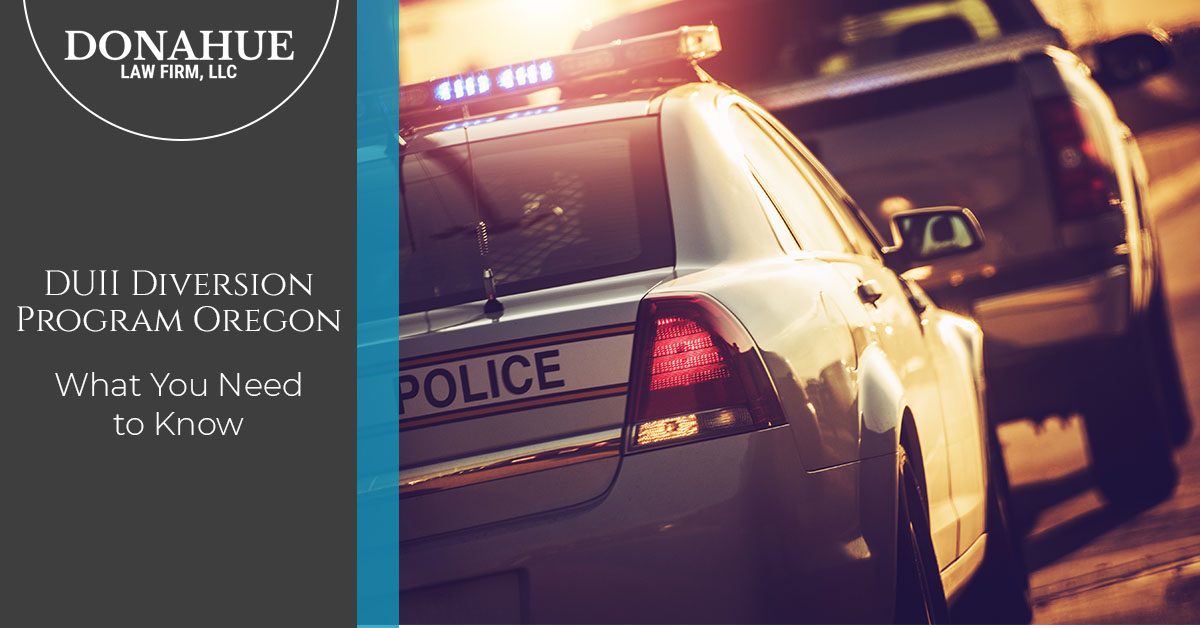 DUII Diversion Program Oregon – What You Need to Know
When you're charged with a DUII (Driving Under the Influence of Intoxicants), a DUII diversion program might sound like the best possible outcome, it can allow you to keep your driver's license and potentially reduce the suspensions and penalties. However, there is a lot to know about what is required before you can participate in a diversion program, the eligibility for participating, what the program entails, and what happens after the program is complete.
To fully understand the details of the program and if your specific case and circumstances will allow for entering the program, the best course of action is to consult with a DUII attorney. The lawyers at Donahue Law Firm represent defendants in Bend, OR, Redmond, Salem, Klamath Falls, Portland, and more. We have the experience, knowledge, and determination to ensure that your case is successful. If you have any questions about your specific circumstances, don't hesitate to contact us.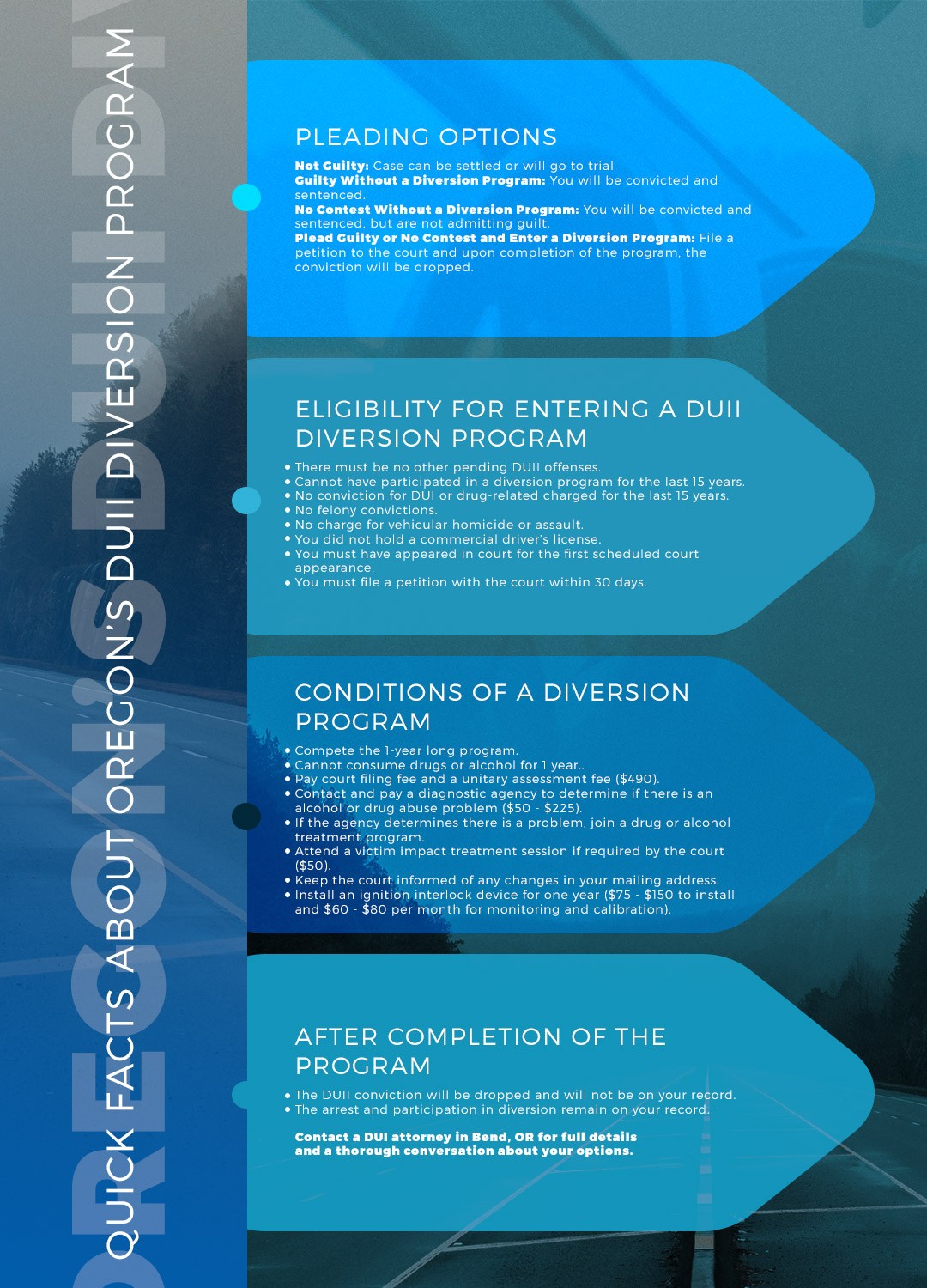 Pleading to a DUII Charge
When facing a DUII charge, there are a few options as to how you can plea, including not guilty, guilty, no contest, or you can plead not guilty or no contest and apply to enter a diversion program.
Not Guilty: If you plead not guilty, an Early Resolution Conference (ERC) will be scheduled, where it will be determined if the case can be settled before going to trial. In the event that the case does not settle, the court will schedule a trial, where a judge or jury will decide if you are guilty or not.
Guilty Without a Diversion Program: When you plead guilty, the case will result in a conviction. Before the sentence is determined, you can provide any necessary information or explanation to the judge that will help him or her to decide on the penalties. Minimum penalties for a DUII include:

Two days in jail or 80 hours of community service or up to one year in jail.
18 or more months of probation.
Suspension of your driver's license for one year.
$255 in court fees.
If the blood alcohol content was higher than .15 percent, there is a minimum fine of $1,000.
And more.

No Contest Without a Diversion Program: Meaning that you do not admit guilt, but are accepting conviction, a no contest plea will result in a conviction if there is enough evidence to prove guilt. The sentence will include minimum penalties listed above.
Plead Guilty or No Contest and Enter a Diversion Program: Pleading guilty with the intention of entering a diversion program does not guarantee that you will be able to participate in diversion. There are eligibility requirements and you must file a petition to enter. During the program, the court will maintain your plea and conditions of the program must be met before being able to file a motion to dismiss the DUII charge. If the conditions are not met, the court is able to terminate the program and can enter the original plea of guilty and sentence you without a trial.

Eligibility For Entering a DUII Diversion Program
There must be no other pending DUII offenses.
Cannot have participated in a diversion program for the last 15 years.
No conviction for DUI or drug-related charged for the last 15 years.
No felony convictions.
No charge for vehicular homicide or assault.
You did not hold a commercial driver's license.
You must have appeared in court for the first scheduled court appearance.
You must file a petition with the court within 30 days.
Conditions of a Diversion Program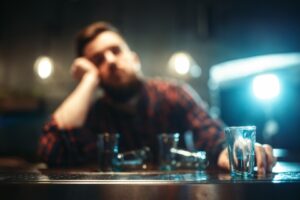 Before choosing to plead guilty and enter diversion, have a conversation with your DUI attorney so that you fully understand what the program entails, the potential costs of the program, and what you can expect during and after the program.
DUI diversion programs last for a full year under Oregon law.
Do not consume drugs or alcohol for the duration of the program.
Pay court filing fee and a unitary assessment fee ($490).
Contact and pay a diagnostic agency to determine if there is an alcohol or drug abuse problem ($50 – $225).
If the agency determines there is a problem, you will need to enter and pay for a drug or alcohol treatment program.
You may need to attend a victim impact treatment session if required by the court ($50).
Keep the court informed of any changes in your mailing address.
Install an ignition interlock device for one year ($75 – $150 to install and $60 – $80 per month for monitoring and calibration).
What Happens After Completion of the Program?
After participating and completing the year-long program, there will not be a criminal conviction on your record. Unfortunately, the record of your arrest and your participation in the diversion program will remain on your record. According to Oregon law, you will not be eligible to have your DUII charge expunged from your record.
If you are facing DUII charges, consult with a DUI attorney right away. The lawyers at Donahue Law Firm have successfully argued DUI cases in Bend, OR and the surrounding areas for years. Contact us today for a free consultation.
"Bryan was very straight forward as well as positive"
Bryan was very straight forward as well as positive about my case. He stayed in contact with me through the whole process and I am very thankful for all the time he invested into my Case!
"I am absolutely impressed with the Donahue Law Firm"
I am absolutely impressed with the Donahue Law Firm. Attorney Bryan Donahue was caring and honest with me from the beginning and I can't thank him enough for taking my case.
"He's a wonderful caring understanding person"
I had a very hard case that no one wanted to touch, Bryan understood my problem and cared enough to take my case. He's a wonderful caring understanding person. He takes his client's problems as his own. Great lawyer. Thank you for all your hard work and understanding.
"I'm so very grateful to Bryan"
I'm so very grateful to Bryan for the work he put in on my case. He helped me so much. I would have been totally lost without him. I was from out of state, I made a mistake. And Bryan was there to help me thru it, and still is. He's a great person, sincere, and true!
"I was thoroughly impressed with Attorney Bryan"
When I needed an attorney I turned to the Donahue Law Firm. I was thoroughly impressed with Attorney Bryan's knowledge and expertise. He took care of everything and I couldn't be happier!