You Deserve to Have Your Story Heard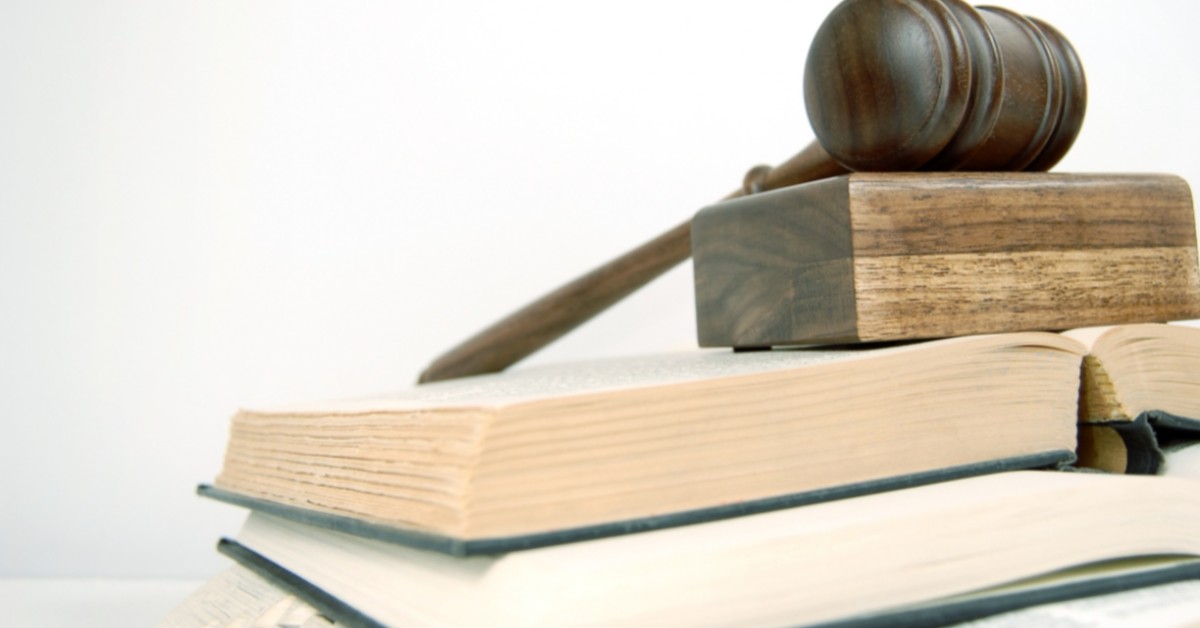 Questions About Domestic Violence Charges in Oregon
Donahue Law Firm has managed hundreds of domestic abuse cases. Our extensive experience in criminal law allows us to provide information about domestic violence and many other criminal law charges to those who readily need it. Below, we will be discussing domestic violence as it is seen in Oregon, signs of an abuser, and how you can get the help you need from a criminal law attorney. Search "criminal defense attorney near me" to find the team at Donahue Law Firm. Give us a call today.

Domestic Violence
Domestic violence as defined by ORS 135.230 (also known as domestic abuse, spousal abuse, battering, family violence, and intimate partner violence) is a pattern of abusive behaviors by one partner against another in an intimate relationship such as marriage, dating, family, or cohabitation. Furthermore, domestic violence is defined as abuse between family or household members, which includes spouses, former spouses, adult persons related by blood or marriage, persons cohabiting with each other, persons who have cohabited with each other or who have been involved in a sexually intimate relationship, and unmarried parents of a minor child.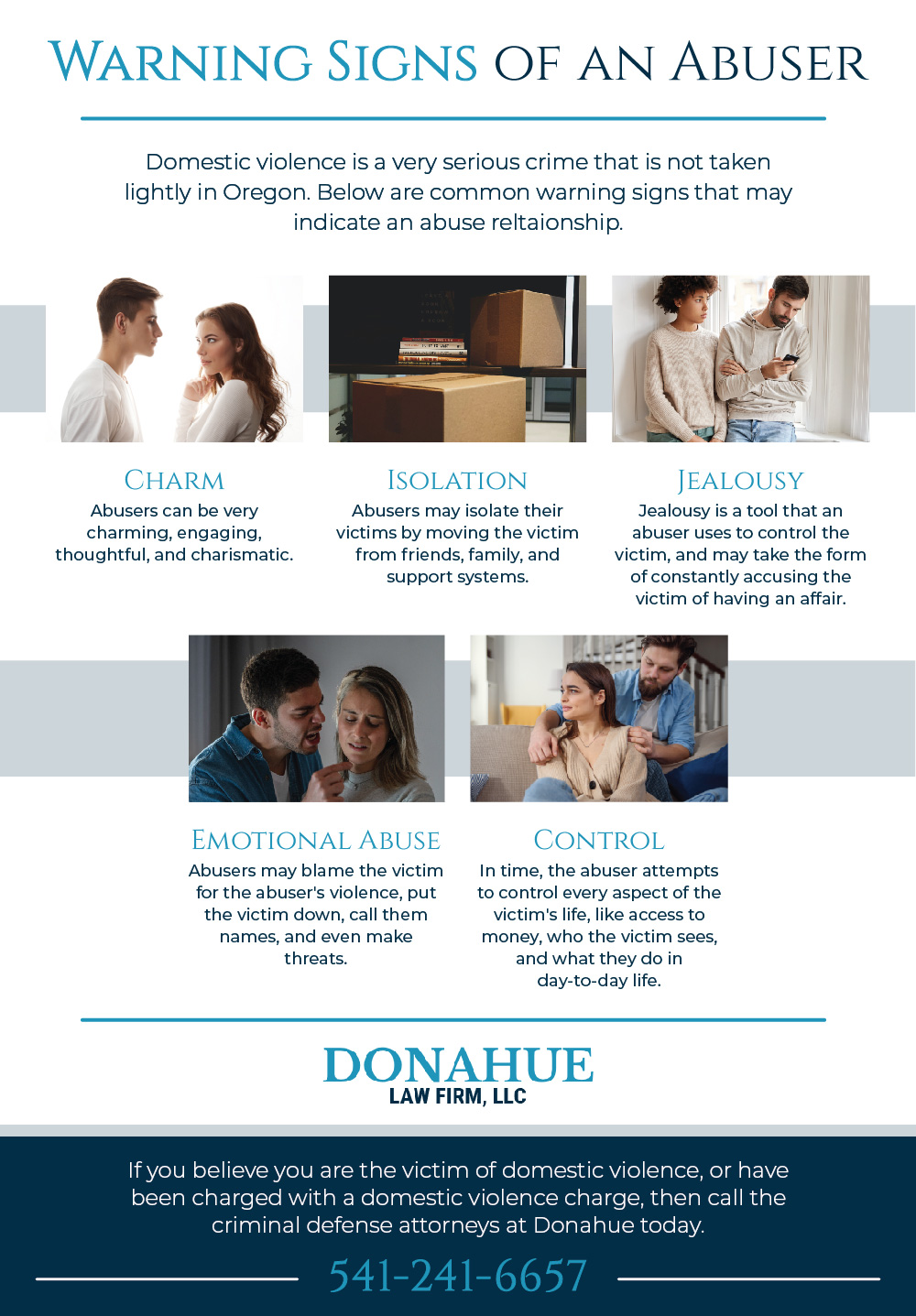 If I Get Arrested for Domestic Violence, Will I Have to Go to Jail?
Since domestic violence is such a serious crime, all associated charges can result in lasting negative consequences. Prison or jail time is common following a domestic violence arrest due to Oregon's mandatory arrest law. In a formal domestic violence investigation, the police are almost always required to make an arrest. If one party is injured once the police arrive, the other party will immediately be arrested. If one individual states that they were threatened with violence, even though they have no injuries, the other party will be arrested. 
Additionally, arrests will be made even when the alleged victim does not want to press charges. It is important to note that when we mention being arrested, we are talking about being brought to jail where you will then be fingerprinted and booked. 
What if My Spouse/Partner Wants to Drop the Charges Against Me?
Oregon is strict when it comes to domestic violence. When a prosecutor in the DV Unit of the DA's office receives the official police report regarding a domestic violence arrest, they will almost always contact the victim. If the victim's spouse/partner didn't want them arrested in the first place, or if they have had a change of heart and wish to drop all charges against them, it may not matter given the facts of the case.
Even without the cooperation of the spouse or partner, the prosecutor can still move forward. If the defendant has made any statements to the police, those statements can be used against them in court to prove their guilt. The prosecutor also has the power to issue a warrant against the spouse or partner and force them to testify in court against their wishes. In short, if there is enough evidence to prove the charges, a case will be issued. 
Once a case is issued, the DV Unit has a published "no-drop" policy, meaning that they will proceed with the prosecution of the defendant's case wherever legally and ethically possible. In other words, once the defendant has been arrested for domestic violence, it may already be too late to stop the prosecution, no matter what the spouse or partner says.
Are There Immediate Protections Available to Victims?
A restraining order can be issued by an Oregon court as soon as a domestic violence case is allegedly initiated or sometimes when no criminal charges are present. The victim can request a restraining order be placed against the defendant, and the judge will hear their reasons for it. 
The victim can ask the court that the abuser move from the victim's residence if they are married, or if the residence is jointly owned or rented by the victim and the abuser, or if the title or lease is held solely in the victim's name. The abuser has to stay away from the victim's residence, place of employment, children's school or daycare, if applicable, and any other premises necessary. 
The order is effective for one year; however, the abuse may request a hearing within 30 days after they have been served the order. If the abuser does not do that, then the restraining order will remain effective.   
What Are the Penalties for Domestic Violence in Oregon
There are many offenses that are common in domestic cases. Some of the more common domestic offenses and their potential penalties include:
Menacing threats – Class A misdemeanor. Up to one year in jail and fines up to $6250.

Stalking – Class A misdemeanor. Up to one year in jail and fines up to $6250.

4th Degree Assault

– Class A misdemeanor. Up to one year in jail and fines up to $6250.

3rd Degree Assault – Class C Felony – Up to 5 years in prison and $125,000 in fines.

2nd Degree Assault –  Class B Felony – Up to 10 years in prison and $250,000 in fines.

1st Degree Assault – Class A Felony – Up to 20 years in prison and $375,000 in fines.
Can I Be Charged With Domestic Violence if I Was Defending Myself
An overzealous prosecutor could issue charges against the partner that was defending themselves. However, the prosecutor is going to have to disprove that they acted in self-defense, meaning that they will have to show that the spouse intentionally injured or harassed the other spouse or partner and that the partner was not the aggressor. If there is the slightest evidence that establishes that the spouse defending themselves met an aggressive force with an equal defending force, it is likely that the partner defending themselves will win.

Get Donahue Law Firm On Your Side
If you or a loved one was arrested for suspicion of domestic violence, the Bend criminal defense attorneys at Donahue Law Firm are here to help you understand your options and protect your rights. It is a serious charge and needs fierce representation. Get the help you need, and call us today.
"Bryan was very straight forward as well as positive"
Bryan was very straight forward as well as positive about my case. He stayed in contact with me through the whole process and I am very thankful for all the time he invested into my Case!
"I am absolutely impressed with the Donahue Law Firm"
I am absolutely impressed with the Donahue Law Firm. Attorney Bryan Donahue was caring and honest with me from the beginning and I can't thank him enough for taking my case.
"He's a wonderful caring understanding person"
I had a very hard case that no one wanted to touch, Bryan understood my problem and cared enough to take my case. He's a wonderful caring understanding person. He takes his client's problems as his own. Great lawyer. Thank you for all your hard work and understanding.
"I'm so very grateful to Bryan"
I'm so very grateful to Bryan for the work he put in on my case. He helped me so much. I would have been totally lost without him. I was from out of state, I made a mistake. And Bryan was there to help me thru it, and still is. He's a great person, sincere, and true!
"I was thoroughly impressed with Attorney Bryan"
When I needed an attorney I turned to the Donahue Law Firm. I was thoroughly impressed with Attorney Bryan's knowledge and expertise. He took care of everything and I couldn't be happier!